HEX DEREF is a professional 64-bit reverse engineering software written in C
#
/C
++
and it is designed for dynamic analysis.
Attempts are being made to develop the software to be more user-friendly, simpler to use and combine the most needed features into one. Since 06/2021 the tool has been developed for over 5 years, usually on a daily basis. Despite all the efforts, the tool is a work in progress (WIP).
The long story short
. As a result, the time spent on the task is significantly reduced and even the hobbyist can get involved without having to know how to script. HEX DEREF have various not so easily to be coded tools in one and represents something like:
(IDA LIKE DISASSEMBLER | X64DBG SIMPLIFIED | CE EQUIVALENT MEMORY SCANS | RECLASS.NET++)
QUICK NAVIGATION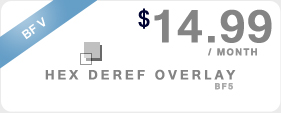 Requirements as follows:
.NET Framework 4.7.2 or newer
https://aka.ms/vs/16/release/vc_redist.x64.exe
If you get an exception: System.DllNotFoundException: Unable to load DLL 'BeaEngine_5.3.0.dll': The specified module could not be found. (Exception from HRESULT: 0x8007007E). Install above "vc_redist.x64.exe" package.